Tanzania, Africa
Location
Promo – Mt Kilimanjaro Trek: LEMOSHO ROUTE – Private Climb
The Lemosho route is a very scenic trail on Kilimanjaro, offering wonderful panoramic views. One of the newer routes designed to assist the climber with acclimatization
VALIDITY: November 01, 2022-December 15, 2023
DEPARTS ANY DAY minimum one traveller
Costs per person sharing: Based on 1-5 climbers. ON A PRIVATE BASIS! (Hiring costs for poles, sleeping bags, etc. available on request)
8 NIGHTS / 9 DAYS:
Land Costs. Single Supplement CA$130 and  International Airfare Available Upon Request.
Need a personalized copy of this flyer, click on PERSONALIZE tab to complete form.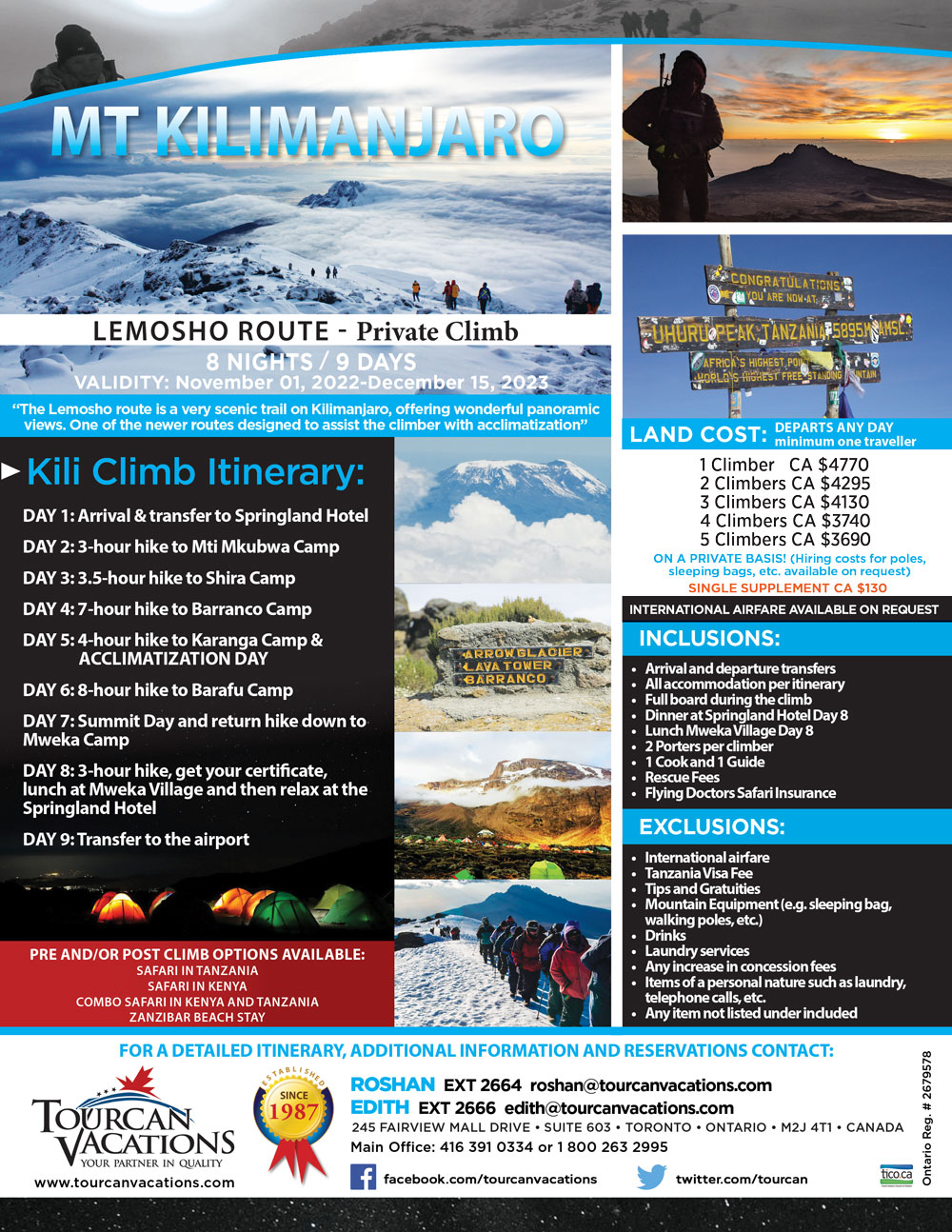 HIGHLIGHTS INCLUDE:
DAY 1: Arrival & transfer to Springland Hotel
DAY 2: 3-hour hike to Mti Mkubwa Camp
DAY 3: 3.5-hour hike to Shira Camp
DAY 4: 7-hour hike to Barranco Camp
DAY 5: 4-hour hike to Karanga Camp &
ACCLIMATIZATION DAY
DAY 6: 8-hour hike to Barafu Camp
DAY 7: Summit Day and return hike down to Mweka Camp
DAY 8: 3-hour hike, get your certificate, lunch at Mweka Village and then relax at the Springland Hotel
DAY 9: Transfer to the airport
Thank you for choosing Tourcan Vacations! Your Partner in Quality
Receive an e-mail jpeg version to send to your clients by filling out our form below. Forward email then click before or after jpeg image to insert your signature into the email. Please Note: Right click on jpeg in email and save to your desktop to upload to your social media posts.